I spent my day collecting various school necessities. My mom and I hit up Costco stocking up for the oh-so-wonderful sacked lunches. Mmm how I love having the same lunch 5 days of the week.
Next stop was Office Max to beat the crowds on the first day of school. (Though I'm sure we will have to return because some stubborn teacher will insist upon a three-ring-binder that is 1.5" with only a right-sided pocket preferrably in a shade of orange with an intricate cover designed for the front blah blah blah..)
In any event, summer is over. As of 3 o'clock tomorrow all that's left is a regular 2 day weekend before I enter another 9 months of notes, exams, and 6:30 am wake up calls.
Okay, so I don't really have a brown sack for my lunch.
When I visited NYC in April, I bought
this convenient
bag from Bloomingdales
that prevents those
embarrassing
bag rips in
the hallway where your apple, goldfish, and
pbj end up all over the aqua hall. Yeah, not okay.
Now to veer away from that somber note, I'm going to blab about what's been on my mind for the last week of summer other than the ticking time bomb reminding me of the approaching school days.
I have yet to come up with a first day outfit. TRAGIC, I know. And do not snicker at the thought of a senior in high school still stressing over this frivolous matter. If you've really been reading BOD, you'd know that having a cute outfit at school is the only thing that gets me through those seven long periods.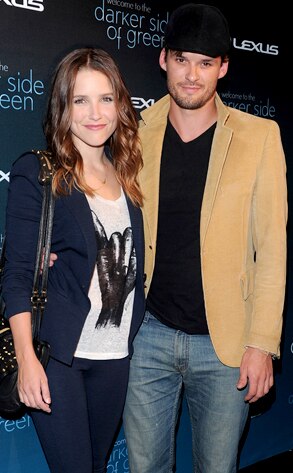 I've watched 125 episodes of One Tree Hill this summer. I can't decide whether this is something to brag about or not. But let's talk about Austin Nichols...I approve, Sophia. Chad's kinda a cheddar cheese ball anyway. Such an upgrade.
-Here are Sophia and Austin in all their Brooke and Julian glory.
Only OTH viewers will understand.
Aren't onscreen offscreen romances
the best
?
I met a new girl coming to MHS tonight. Her name's Shannon and this will be her fourth high school to attend. Yes, that means she has gone to a different school every year. But here's the real jaw dropper: she enjoys it. Props, Shan. We're happy you get to finish as a Memorial Mustang. I think you will be too.
Memorial moms and dads are starting to scramble over senior ads. Makenna and I spent a good 45 minutes struggling with the text for our ad together.
This is how far we got: [insert really cheesy friendship quote]
Hungry? Go get the Southwest Salad at Central Market. You won't regret it.
New favorite phrase: "I'm so
Dunzo Washington
with this." Genius, Macy Livingston.
Ceci and Ana made a visit to The American Girl place in Dallas. They inherited my Molly and Samantha (who was originally Erin's) dolls. They even have their own hair salon.
They must have gotten that idea from me when I made a failed attempt to highlight Molly's hair by shampooing it and wrapping it aluminum fail. EPIC FAIL.
Yearbook camp was many things all at once. Stressful, hilarious, thought-provoking, interesting, and just a lot. I guess that's a preview of the year ahead for the Reata staff. Which by the way, I love every new member for this year so let's hear it for fun-filled late nights.
Lately the buzz has been all about "Pretty Little Liars". I had my hesitations when I heard it airs on ABC Family. Watched the pilot and was unimpressed, but Makenna begs to differ. I'm still on the fence.
Fish Camp is Saturday. Already met a bunch of the girls and they couldn't be cuter. Some of them I felt like I had known for years. Cannot wait for Freshmen Young Life.
This website
made my eyes light up. I even set the home page design as my phone background.
Should I set up a group to go to the Dave Matthews Band concert in September? I have trouble with decision making...ask my mother.
Now if this isn't the best cheer squad Memorial has ever seen...
Parlez vous gossip?
Sacre Blair!
Boys du jour!
Girls à la carte!
Dan au pair!
Vive le Chuck!
Oh Mon Dieu! September 13th shall be a wonderful day.
I wish you all pleasant weekends. And fair warning to all of you shoppers...it's tax free weekend. But don't hop out of your chair too soon. Only purchases under $100. Total cop-out if you ask me.